My Name Is Mike Andreasen
Long story short, I'm a…
WordPress Optimization Expert with 16+ years experience turning high bounce rates into high conversion rates with blazing fast site speeds.
New Relic Certified Full Stack Practitioner who's worked with clients like WooCommerce, Kinsta, Tiny & Costco.
Top 2% Certified Codeable Expert with 1,600+ successful projects and 475+ optimized WordPress sites under my belt.
(For the whole story, scroll down and keep reading.)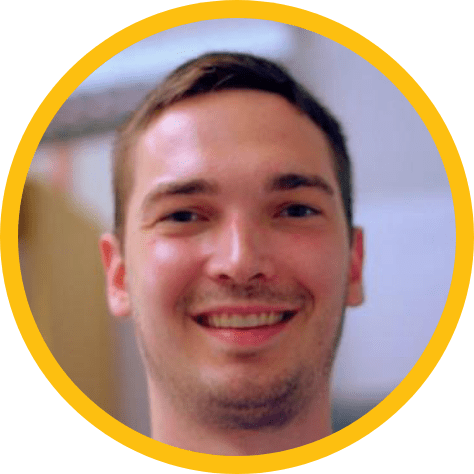 In 2016, I was bored as f*ck in school
To kill time, I started working on a website teaching people all about media servers.
I would spend hours researching and producing new tutorials every single day for an entire year.
Eventually, my site blew up in popularity…thanks to people on Reddit liking and sharing my guides with anyone who needed it.
Honestly, it felt awesome knowing my work was having such a huge impact on the lives of others.
Which is why…I was incredibly devastated when my 300+ article site started crashing and burning from the insane traffic I was getting on a daily basis.
I wanted to make sure my site could stay up and run as reliably as possible so it could continue helping people forever.
So for months, I would work day in and day out trying out whatever I solutions I could and get bulletproof performance happening for my site.
Eventually…
I managed to build and set up a tiny $5 server that was muscling thousand of visitors all at once without issue.
Like a badass Phoenix (Harry Potter!), I had risen from "crashing website ashes" hell to performance heaven.
There was glowing light surrounding me and everything!
Bliss had arrived…
And since then, I've dedicated my life to providing this exact same joy to store owners and content creators from all around the world.
I've always enjoyed helping clients regain free time and peace of mind so they can get back to living
A while back, I helped this woman named Deb with her homeschooling help website that she had founded and managed for years…
The pandemic of 2020 had caused homeschooling to blow up in popularity. And because of this, Deb saw huge spikes in traffic and user activity on her WooCommerce site like never before.
And pandemic aside, it was easy to see why…
With 150+ courses and 1,700+ downloadables made up of worksheets, homeworks & planning materials, Deb's site provided tremendous support to parents fighting for their children's futures during unprecedented times.
That's why over 40,000 users were now logging onto the site simultaneous… and causing Deb's site to start running into issues like a sluggish back-end, frequent timeouts and severe crashes.
For months, Deb spent 16 hour days trying to fix the situation AND serving her customers…
And it took a serious toll on her life…
She no longer had the time or energy to produce new content for her customers…
Her nights were sleepless and miserable from a brain hellbent on figuring it all out…
But worst of all, she was spending less and less quality time with her own family…
When we started working together, I could tell Deb was crushed by the situation.
Not just because it was affecting her bottom line. But because she felt like a failure for letting down her family and customers at a time when they needed her most.
"Pages are taking over 40 seconds to load for my visitors… Parents are complaining they can't download the teaching materials for their children… I just don't know what to do anymore…"
It broke my heart to see her like this.
So I got to work right away.
Not only was I going to solve this for her as soon as possible.
I was going to make sure she would never end up in this sort of hell ever again.
Two days.

It took two days to get it all sorted out for her…
Application response time went from 44s to 1.2s.
The WooCommerce store was now performing flawlessly at lightning speeds.
Parents were no longer waiting to download the latest math worksheet or geography homework.
Deb couldn't believe her eyes…
"Wow", she said in complete and utter awe.
At that very moment, I witnessed in Deb what I usually see in clients after our work together is finished.
That is, the immediate sense of relief that one is regaining back all their free time back – previously stolen from stress and frustration.
Which is exactly what drives my passion in solving tough problems…
Giving my clients BACK the most valuable resource on Earth – THEIR TIME.
I have a very particular philosophy that's very different from how most people in my line of work view things
Most other developers will fix all the issues on the surface, without ever addressing the root cause. That's like cutting off the head of a dandelion but leaving the stem rooted firmly in the ground.
Soon enough, your site-speed problem is back. This time, with a vengeance.
For me, every detail matters.
My goal is to have your website performing like a Porsche.
The reason why Porsches provides such an amazing driving experience is because their development team pays close attention to every single detail.
They take a 360º approach to every corner of their subject.
Like going through 500 different colors of leather to ensure the interior design complements the lighting of someone's home environment.
Or paying attention to how the tires look when attached to the wheels to ensure the vehicle sits comfortably while on the road.
These are some of the finest, highest performance cars in the world because of ALL the attention to detail on the elements you can't see on the surface.
And that's why…
Every Detail Has To Be Perfect Before It Leaves The Line
This is exactly the sort of passionate craftsmanship that I take on when working on my clients' websites.
Here's another way to look at it:
My philosophy isn't too far off of Jony Ive's thinking when his team designed the first Macbooks.
Even though Jony knew no one outside of the Apple Factory would ever see the inside, it had to be beautiful.
It had to be perfect.
It had to look like a masterpiece, even if the customer would never see what's inside.
THAT is the level of thoroughness I take when working with clients.
After all…
My approach tends to generate massive ROI for my clients for years and years to come.

Just like it did for:

Kurt whose Sports News WordPress site got an extra 17,000,000 unique page views and generated $100,000 in additional revenue from the in-depth performance strategy we implemented for him.

Mark who increased the revenue he was earning from his WooCommerce souvenir store by $1,700,000 in just three years since optimizing his site from the ground up (that's $1,555 in new revenue per day!)

Steve whose WooCommerce Google PageSpeed score went from a poor 16 red to an excellent 93 green after a month of intense, in-depth optimizations.
The Numbers Don't Lie
From users having to wait over 30 seconds to only 945ms, Michael's site now loads 30X faster than before!
Before

After

Unspoiled Jewels wasn't getting any sales from its sluggish 6.65 seconds load time. But we brought it down to 900 ms and now they're selling 1 product every day!
Before

After

Because of a slow WooCommerce back-end, Steve was missing payments and ending up with canceled orders daily. But with some optimization, we got him and his team all processing orders on time and raking in all the sales!
Before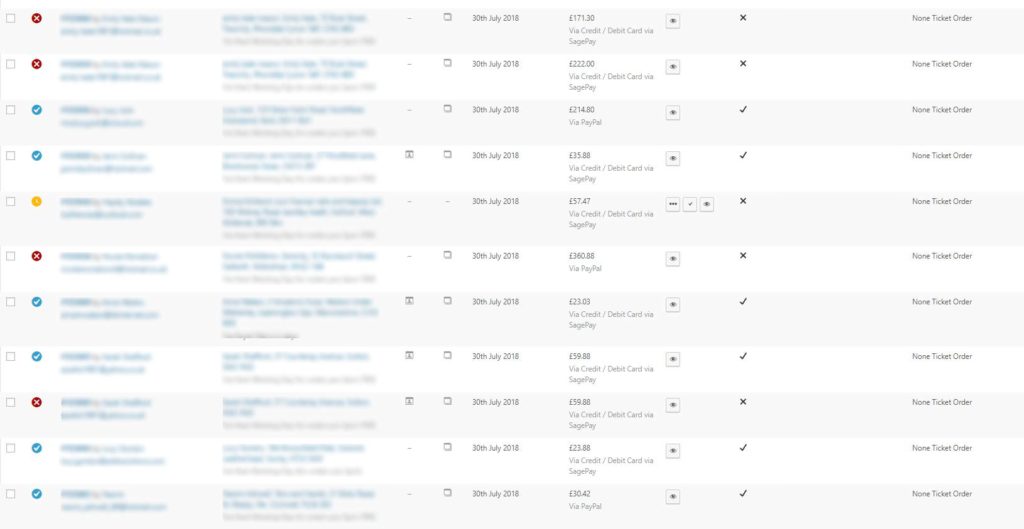 (From a bunch of red and yellows…)
After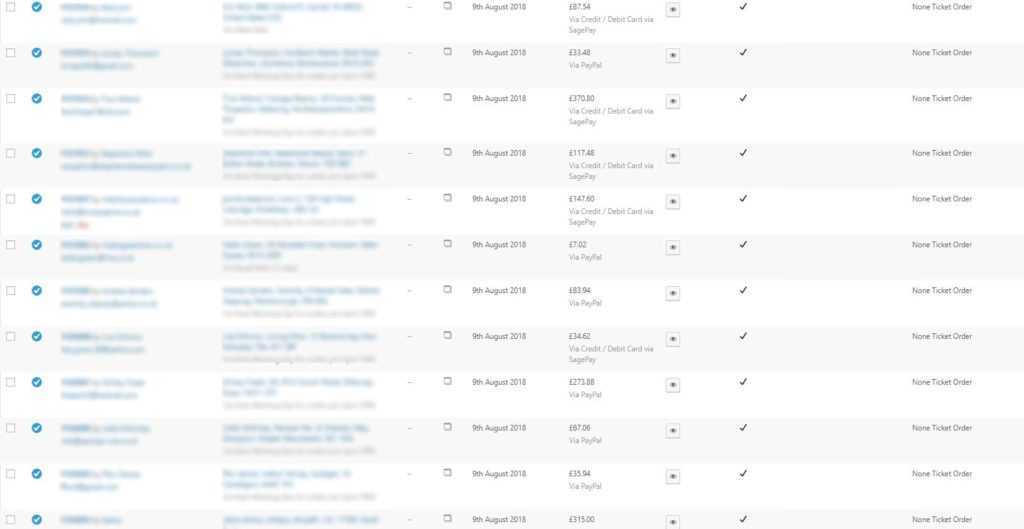 (…to a perfect streak of blues!)
Despite his premium hosting, Kurt's hugely popular site was constantly crashing. It was like a never-ending migraine… the worst version of Groundhog Day you could imagine, as an entrepreneur. But after a series of optimizations, his site was more than capable of muscling 25,000 concurrent visitors!
Before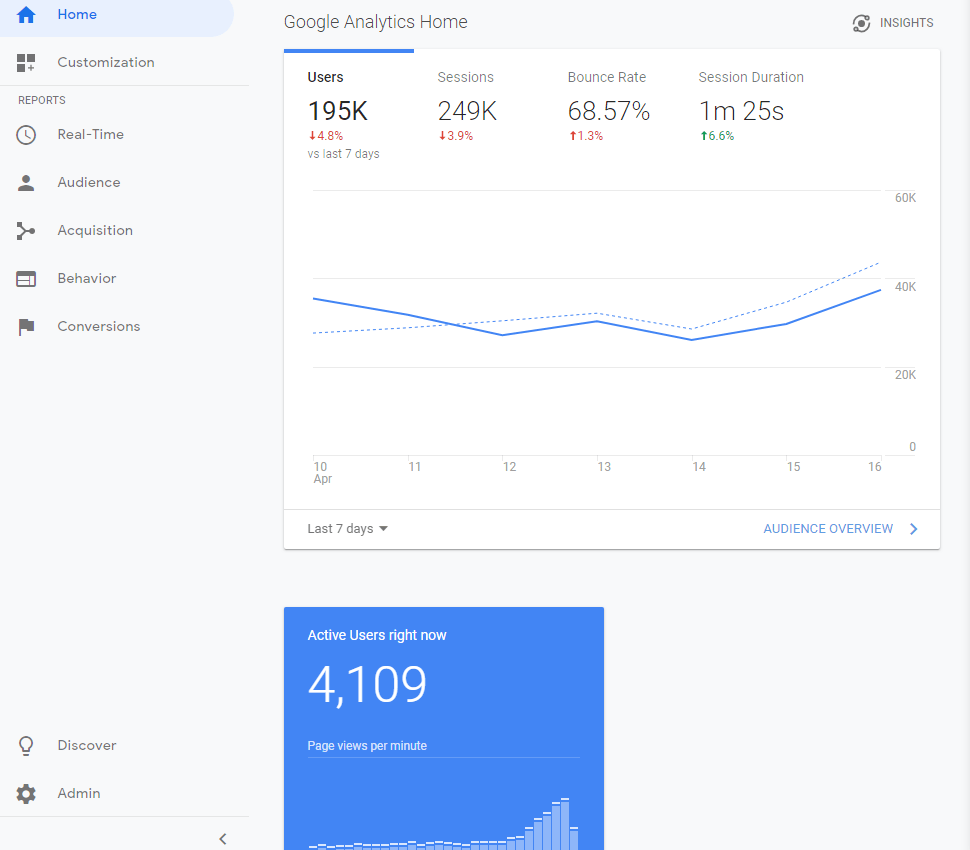 After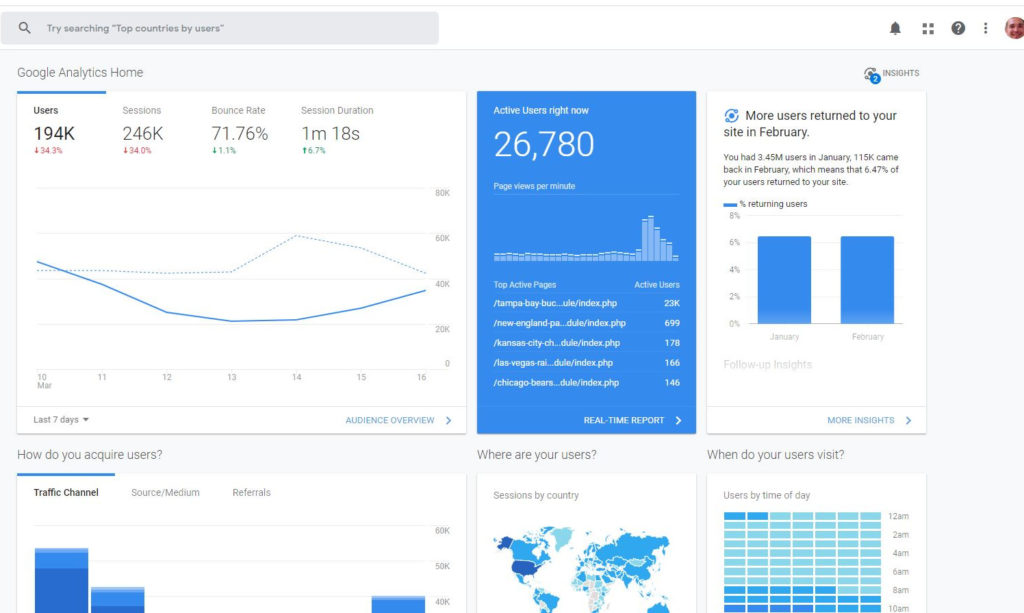 Christian's site just needed 1 second to load. But he wanted it to be event faster. So we got his site loading under 500 ms!
Before

After

Another client's site was averaging at 378 ms in load times. With a few key optimizations phases, we got it averaging at 211 ms!
Before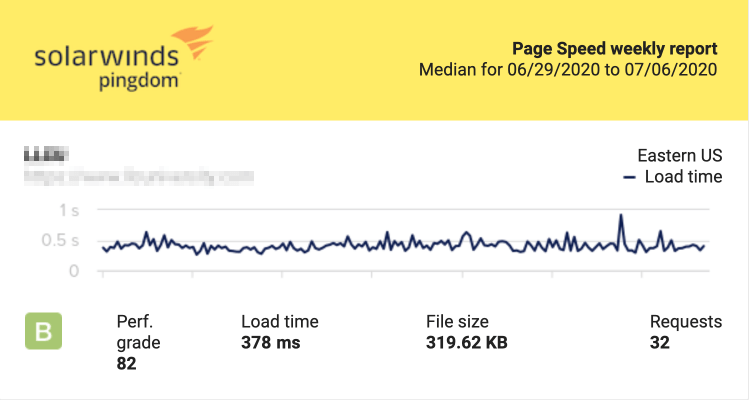 After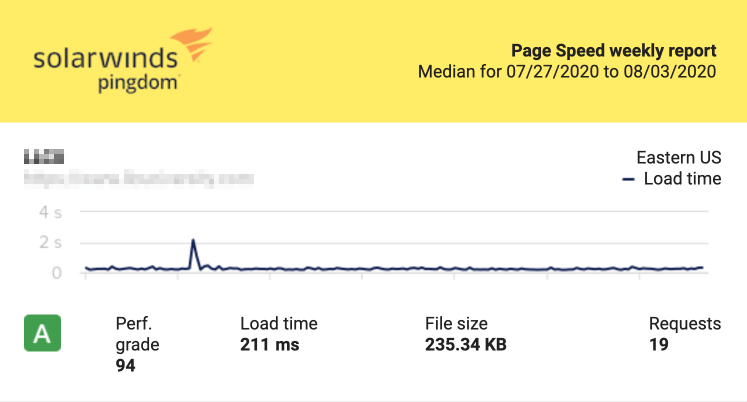 Despite being a content producing powerhouse, Deb's site was timing out and crashing hard. But after I got on board, we dropped her site load times from 44 seconds to under 1 second!
Before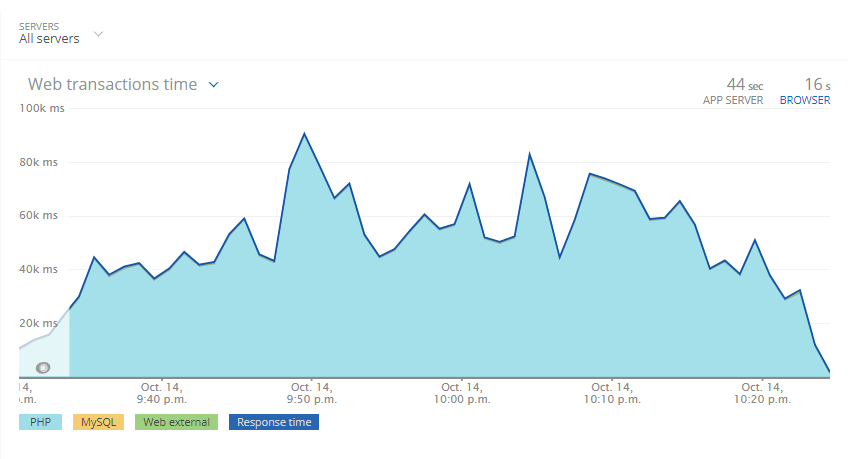 After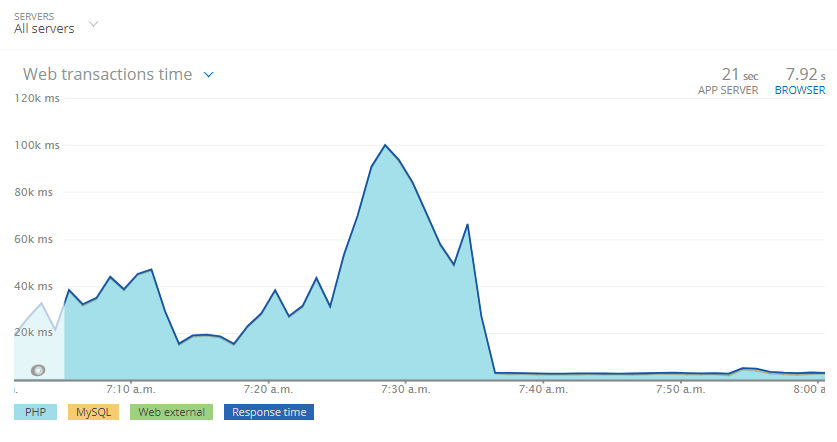 Nosa had spent 6 months building out her WooCommerce site… only to end up with something that takes 20+ seconds to load. Fortunately, she was able to get on with her life after I cleaned things up and got it under 1s.
Before

After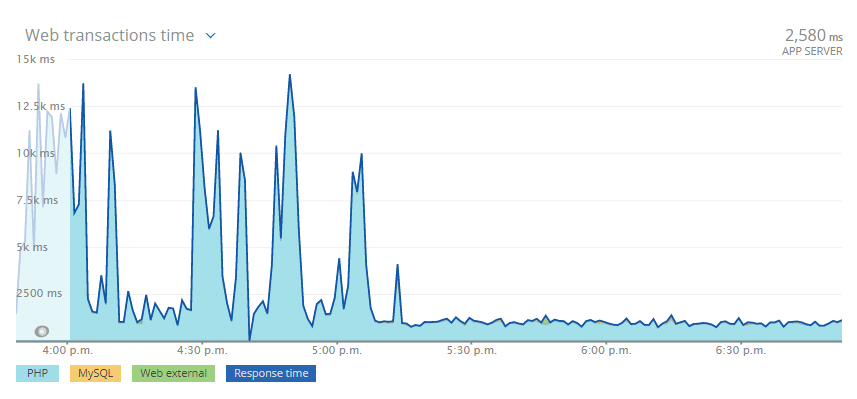 All It Takes Is One
Project Together
Because I take on such a thorough approach,
99% of my clients never call back once
the engagement is over.
If you'd like to get back full control of your life
(and site performance), let's talk.
Your Website Is Always
In The Best Of Hands
Complete visibility into details of user journeys, resource-guzzling background processes and hidden bottlenecks.
Only the most talented and experienced developers who communicate well solve complicated WordPress challenges.